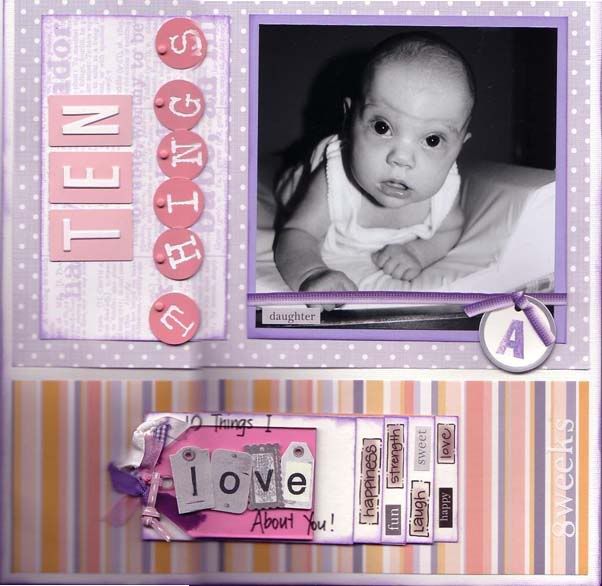 Yay I am back online. It is funny, I only had a day away from the computer, but I really missed it!
Though I would finally get around to posting a few images, not that I have had a lot of time for scrapping these past few days. Too busy socialising!
This is one of Audrey at 8 weeks old. It was published in Scrapbook Creations, but the colours came out all wrong. It was soooo orangy! So here it is in it's true glory LOL!!!
Have had a really great weekend thus far. Crop night at my place on Friday night. It was so much fun...the most scrappers i have had at my place ever! Hope even sent us a challenge to do from SAM. She is so generous. I don't know any one else who would do that!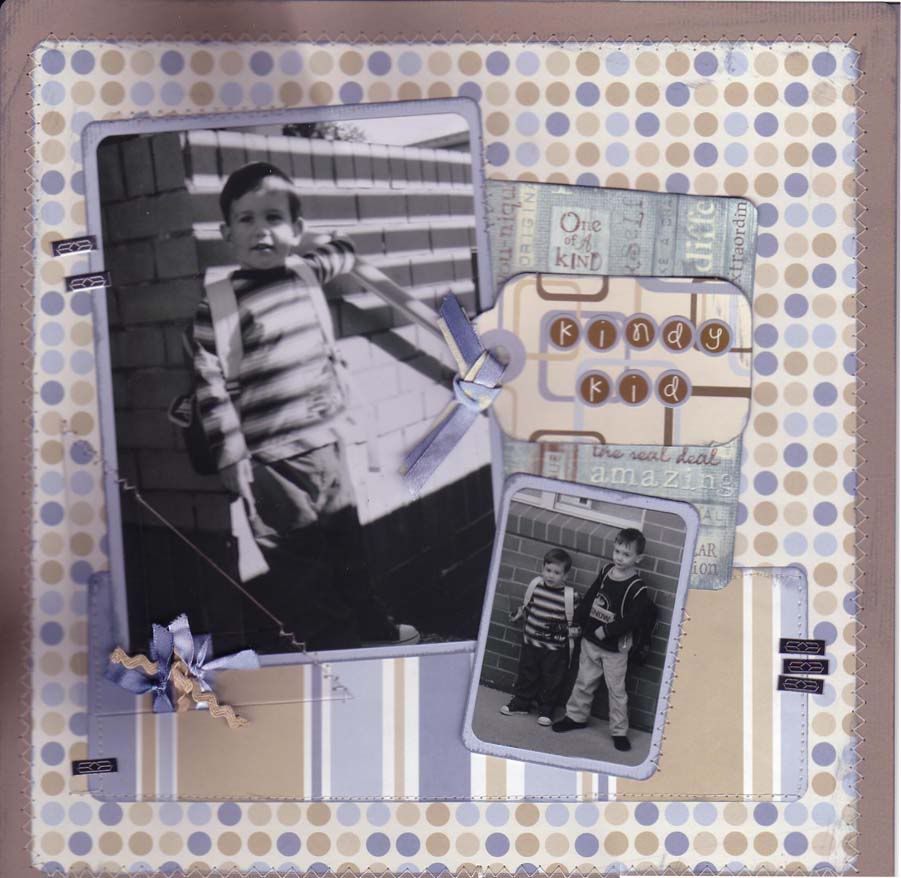 This is the LO I did for the challenge. I love these pictures of Joseph. There is another one of him walking down the steps in profile...I will have to do that one seperately!
Saturday I went to the hairdresser and had a bit of style chopped into my locks. I washed it this morning and now i have curly hair. All my wishes paid off!!!
Saturday afternoon we went to Audreys little firend Kyan's first birthday party. It was so sweet to see the kids running around together. It took ages for Thomas to settle down and join in though. We worked out that it was because at the beginning of the party he was offered a blue hat, but he wanted a yellow one! He didn't whinge or anything, just went really happy and excited when he found an abandoned yellow one and started playing like he knew all the kids since birth. He is so funny some days!
Then last night I had dinner with the DT girls from SAM, (minus ZINA :( ) We had a great time chatting and laughing..I got a cramp in my neck from laughing so hard at one story!!! It was a much needed casual night out with the girls and no kids!!! And such great company, I couldn't have had anything but a good time. Roll on ISC!!!
Today we had our 16th open house. For the first time no-one came through, but it is the first week of the school holidays, so that may be part of it...hopefully. Maybe someone is sending us a sign to say not to move and build...Greg and I will have to have a good chat about this one soon I think!!! Mum and Dad came and took the boys down to the park while we cleaned up. Mum looked really nice, so I took a quick picture of her. It will be lovely too. You know when you get the perfect shot on film, and you can't wait to get it back to see it?? This is one of those shots!
Busy week ahead, but always time for the computer and scrapping!