Hi there everyone out there in blogland! I am here and alive and kicking! I had no idea I had left it so long between posts but I have had so much on my plate...let me walk you through a few things I have been up to!
GYM

I have been hitting the gym for three times a week for the past couple of months. I have not really noticed a lot of changes yet, but I am assured it is coming soon!! I do feel like my ahem core muscles are doing a much better job...and so far my back has held out quite well! I am loving it so won't be giving in any time soon! Unfortunately I have lost my gym buddy Lorena so it is not as much fun as it was but I'm too invested in it now to give in!
TAFE
So much fun and oh so busy! Three nights a week is a lot to be away from home and Greg and the kids are doing so well. I am really looking forward to the holidays in a couple of weeks though...it will be nice to sit and do nothing. I am trying to get all of my assignments done before we break up so I don't feel like I have to do them while I am away.
TRIVIA NIGHT
SO I am organisisng the St Joseph's Trivia Night with Tiff and Lorena this term. It has been fairly breezy until this week...why do I always leave things to th last minute? I have been printing tickets tonight and writing worksheets at 6am this morning...it will be worth it though...going to be a corker of a night!
SCRAPBOOK CITY

We had a huge shipment come in from CHA and then had the first Leisa's Favourite Things day. It was such a great idea of hers. She picked a whole stack of new and unseen product at CHA and had a release party. $100 got us $300 worth of stuff...love it all even the page kit! LOL!
Here are a couple of layouts I did in preparation for it.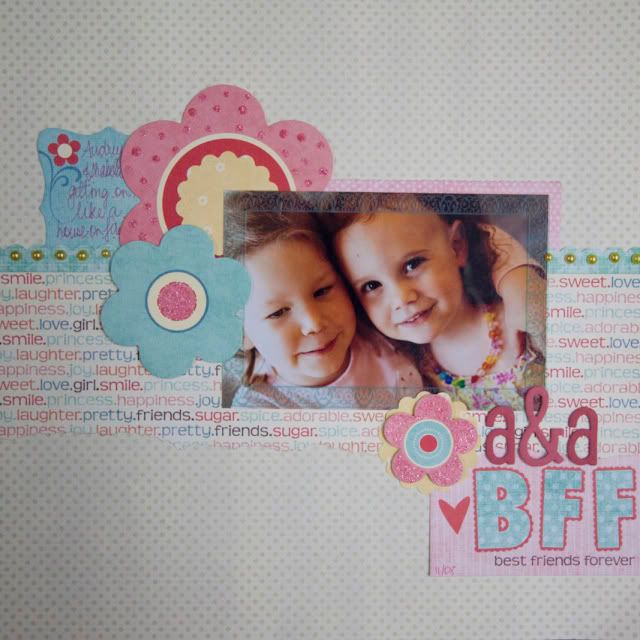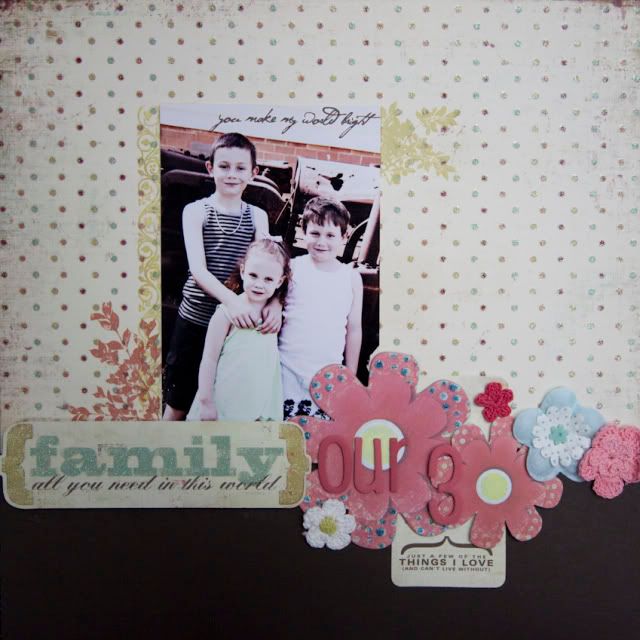 GOLD COAST
Last weekend I represented Fiskars at the Gold Coast Craft Fest. Jill, Ngaire, Merle and Glenda joined me for three days of cards, notebooks, mini albums and door hangers! With a new format we managed to scrap with a couple of hundred ladies over the three days. It was a lot of fun as the craft shows always are! I love the whole atmosphere during the setting up and pulling down and all the people you meet at thes events. I have been demonstrating for Fiskars for over two years now and have started to remember some ladies from year to year!
The Gold Coast is such a fun place to go, I couldn't be there and not have a bit of fun, so Kel and Dee came down for Friday night and we had a bit of a girls night out. We started with a few drinks at home then headed out to East 88 for tea and dancing and more drinks! It was such a great time...I have not been dancing for years...and while I was pretty tired from the two days work prior to that, I had a ball and danced into the wee hours of the morning. The next night Greg came down for our anniversary dinner. We met 15 years ago on Friday so a night away from the children seemed like a lovely way to celebrate. We had a beautiful dinner at Valentino's Italian Restaurant, a restaurant we dined in when we first started dating back in 1994. I reckon the same family is running it now, even mumma was in the kitchen! A couple of bottles of Italian Chianti later and it was midnight again. Taxis were impossible to find so we decided to walk home...and made it half way before it started raining!!! We were soaked by the time we returned to the apartment but a nice warm shower was all I needed to be sleeping like a baby!
I have been spending the past few days getting on top of everything again. Once the trivia night is done I will be able to focus on a couple of projects I have going for my photography business. Then it is school holidays...and I seriously cannot wait to be able to sleep in for a couple of days in a row!
I'll update again after the mammoth weekend. Aside from the trivia night, we are catching up with old friends as well as going to a function for TAFE...another biggy but always fun! Ciao for now!